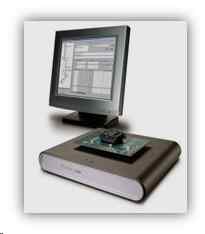 Simple to use and get diagnostic for your silicon validation
Teseda's unique combination of hardware (Testers ) & software (EDA tools), enables  :
design or product engineer to quickly validate initial silicon, thereby saving weeks in the silicon verification process. It is focused to complete the scan chain debug, getting debug independent of outsourcing testing capabilities.
failure analysis engineer to support dynamics applications on their Electrical Failure Analysis applications – taking advantage of the portable, easy to use system to quickly diagnose issues as a stand alone system or in conjunction with leading FA equipment.
Teseda is developping solutions to simplify approach for:
– Defect Isolation tool set – beyond Test results provided – Diagnostic ManagerTM (DM) software and Broken Chain Analyser (BCA) modules provide Defect isolation tool kit – the unique value is that it is simple to use and user keep control on its debug (unlike other EDA solution)
– Field Triage package – Field Triage is a simple package, with « one button » solution to curve tracing, leakage & continuity testing – enabling fast response to your customer failure directly at your field offices. It is available either as a package with cut down version of the V550 or as a module of test solution above.
Teseda hardware plateform is an portable, easy to use tester system focused in enabling high failure coverage. Unlike production ATE, it has much more memory for failure capture. Its high failure coverage thus enabler designer scan chain debugging on silicon. It can be used as well of stimulus for the failure analysis equipements.
The V550 supports 512 pins configurable as either data or clock. It is available in an 80 MHZ scan rate version, and is upgradeable to 100 MHZ. The memory subsystem includes 32 Million Vector Drive/compare per channel (upgradeable to 64 Million), 40 Million Vector capture memory per channel and 16 Million Vector failure capture per channel.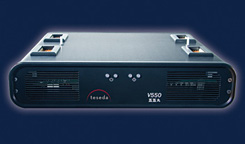 – 512 I/O pins with up to 100 Mhz frequency
– Supports functional and scan-based testing, BIST and IDDQ measurements
– 64Mb per pin pattern depth with up to 40Mb of acquire memory
– Flexible, per-pin timing capabilities for complex testing needs
– Works with our award-winning Teseda Workbench™ (TWB) DFT-enabled software
– DC parametric and Curve Tracing options
– Comprehensive fixturing and interfacing options
– Portable, lightweight and air-cooled – weighs just 13.5 lbs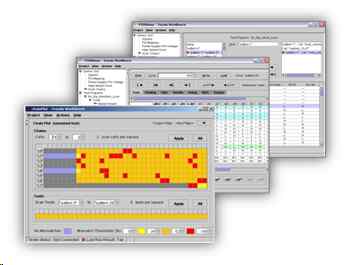 Software - Teseda WorkBench
The Teseda WorkBench™ (TWB) software exploits the full power of your DFT investment, enabling design, test, manufacturing and FA teams to work together to reduce time to production, accelerate yield learning, and maximize profits.
The TWB operates interactively on the Teseda V5xx series desktop hardware or on your in-house ATE to provide fast, explicit, diagnostic information based on the design and DFT hierarchical information. No more deciphering pin and cycle failure information.
Turn days of debug time into hours.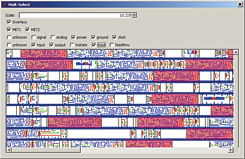 Diagnostic Manager (DM)™ quickly links structural test mismatch data to its physical domain for rapid analysis and diagnosis of defects and hot spots.
It bridges design, test, manufacturing and failure analysis by providing the logical to physical correlation using the benefit of your scan architecture.
Features includes the following:
Net and subnet viewing capability
Gate delay paths between scan cells
Scan cell stitching highlighted by subnet
Defect candidate subnet (where feasible)
Metal layers
Diagnose net trends based on scan and defect gate candidates
Software – Broken Scan Chain AnalyzerTM
Automated Diagnosis of Failing Chain Flip-Flops
Teseda's Broken Chain Analyzer fully exploits the power of your existing DFT-based tests to automatically analyze captured tester fail logs and detect all common causes of scan chain failures – both hard (stuck-at fails) and soft (timing or voltage-related fails) down to the failing bit location. The user simply executes a standard chain flush and a small sample of ATPG test patterns to capture a resulting fail signature. Fail logs can then be imported into Broken Chain Analyzer, along with the test pattern for automated failure diagnosis.
Diagnosis is performed using our interactive GUI, or diagnose multiple sets of captured fail logs via an automated batch mode. Diagnosed chain bit fails can then be easily analyzed by Teseda's Diagnostic Manager NetXY™ to identify the physical location of the individual net that is the likely causing the failure in the scan chain.
Broken Chain Analyzer Features and Benefits
Analyzes scan fail logs determine specific failing bit location within a defective scan chain
Works with all EDA-generated patterns and captured scan fail logs
Analyzes scan fail logs from any source
Identify the physical location of causes of scan chain faults
Cuts diagnosis of difficult to find scan chain issues by up to 80%
Finds faults in seconds — automated diagnosis based on captured test fail logs
Works with any EDA-vendor generated scan test patterns
Standalone diagnosis engine — run interactively or offline in batch mode
Combined with Teseda's Diagnostic Manager NetXY, users can locate suspect failing nets in minutes, not hours or days
Fast response time to your customer & Cut Factory Failure Analysis Loading by as Much as 40%
Teseda's DC Field Triage™ Package provides the user with easy to use, automated screening tools for DC related device failures. Designed for use by field personnel, the DC Field Triage Package puts device failure triage into the design and field support centers, enabling fast, timely and detailed responses to your customer's quality concerns. Since first-level field screening is done in the field, factory failure analysis tasks are offloaded by as much as 40%.
Simple Curve Tracing, Leakage & Continuity Tests
Curve tracing and DC test results are automatically saved in Microsoft Excel® spreadsheets for further analysis. Compatible with Teseda's V550™ and V520™ benchtop test systems, the DC Field Triage Package gives the user a powerful set of automated DC failure analysis tools for field and factory users.
Fast and easy curve tracing of semiconductor devices
Built-in continuity and input leakage test measurements
Simple operator interface
Compare captured DC curves with "golden" results
User interface and data logging based on industry standard Microsoft Excel® spreadsheets
Available for either Teseda's V550™ or V520™ ( legacy product) benchtop engineering test systems
DC Field Triage Package Features and Benefits
| Screen for DC defects in the field | Simple DC failures can be triaged in field offices, minimizing factory returns |
| --- | --- |
| Designed for use in both Field Support Centers and factory-based FA labs | Dramatically decreases customer response time and visibility to failure results |
| Simple Microsoft Excel-based interface | Minimal training required by field personnel — easy to use operator interface |
| Compatible with V550 and V520 systems with DC measurement options installed | Adds powerful curve-tracing features to your existing investment in Teseda tools |
Rapid Field Screening of Customer Quality Issues
With the DC Field Triage Package, catch device quality issues faster. Improve customer response turnaround time. Adopting a field-based triage screening program dramatically reduces the overall failure analysis process by eliminating "no trouble found" devices and offloading factory FA labs – shortening the overall problem to root cause cycle.