Focused Test - Analog ATE Testers
Scalable and Versatile architecture
Focused Test designs, manufactures and supports a family of power discrete and analog IC ATE (Automatic Test Equipment). Our company headquarters are located in Boulder, Colorado and we have an applications engineering office in San Jose California. We maintain an Asia engineering support and logistics center located in Metro Manila, Philippines.
FTI 1000 : the ultimate solution for MOSFET, IGBT, Power Management IC test
FTI 3000 : performs Burn-In and Test of Zener diodes and conforms to MIL STD 750 specifications
FTI 5000 : performs Safe Operating Area (SOA) tests on power devices,
…in which one can integrate multiples instruments:
DC Channel Board with Modules for DC Tests of Mosfets
AC Channel Board with Modules for only AC Tests (UIL, Qg, Rg,Cg)
These instruments can be combined for DC and AC tests and also dual site test – please contact us for more information
Focused Test base systems
The FTI 1000  is  a tester per Channel Board Architecture: –Very Scalable for Multisite/Multidie Test, Zero Multisite Test Time Overhead, –Integrated DC and AC Mosfet Tests.

With a Flexible Configuration for all Device Applications: Channel Boards  for Discrete and IC test, Open Source Code Function Library, Smart Module Capable.
– 4 Slots electro-mechanical structure
– Air cooled systemt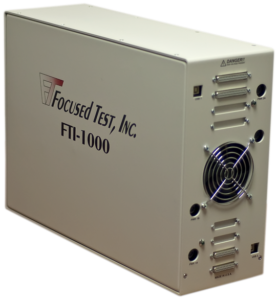 Parallel implementation can also increase capabilities to adapte to your needs.